Gonzo's Treasure Hunt from Evolution Gaming
Gonzo's Treasure Hunt has a RTP of 0% , 0 paylines on 0 reels and a jackpot of 0 times the stake!
When NetEnt launched Gonzo's Quest way back in 2011, there is no doubt that they had high hopes for it. But it's unlikely that the company expected it to become the phenomenal cult classic that it has. A long-awaited follow-up, Gonzo's Quest Megaways was released in the summer of 2020, and that too was received with rapturous enthusiasm.
Now, after acquiring NetEnt at the end of 2020, Evolution Gaming has taken this popular character and done something even more special with him. We are, of course, referring to its creation of
Gonzo's Treasure Hunt
, which just happens to be Evolution's
first-ever Live Casino game
that gives players the
option of playing in Virtual Reality (VR) mode
.
Gonzo's Treasure Hunt: The Format
You don't have to play Gonzo's Treasure Hunt in VR mode if you don't want to, and the game is still as awesome as you'd want it to be even without that. It has a fantastic Augmented Reality (AR) presentation, which means that you'll see a
mixture of computer-generated visuals and a live presenter
who is suitably attired for the role.
The game takes place in an Incan temple and focuses on a
wall of 70 stones
. Gonzo stands to the left of the wall, while the live presenter stands on the right, and the two interact throughout. The stones on the wall come in
six different colours, and each one has a different payout value
.
A betting panel at the foot of the screen allows you to bet on anything from one to all six of the coloured stones, as well as select the number of picks you want to have. That probably doesn't make much sense right now, but all will become clear as we explain the rules of the game and how it is played.
When you choose to take advantage of the VR option (which will require you to have your own virtual reality headset and controller), the same basic elements will be in place. However, you'll also be able to enjoy a full 360-degree environment, and the user interface will be enhanced so that you feel as if you're right there with the Spanish explorer as he embarks on his treasure hunt.
Gonzo's Treasure Hunt: How to Play
The giant wall at the heart of this game is seven columns wide and ten rows high. This gives you 70 individual stones, each of which has a different colour and pay value. The more valuable a stone, the less often it appears on the wall, as you can see from the breakdown below:
Brown appears 27 times and pays 1 to 1
Orange appears 20 times and pays 2 to 1
Purple appears 12 times and pays 4 to 1
Green appears 7 times and pays 8 to 1
Blue appears 3 times and pays 20 to 1
Red appears 1 time and pays 65 to 1
The stone wall will revolve, mixing up the different colours as it does so. When the wall stops spinning, you'll see 70 blank stones, and this is when betting takes place. Your job is to
decide which stone or stones you want to look for on the wall and how many of the blank stones you want to pick
in your effort to find them. Your picks are made by selecting blank stones on the wall, leaving a handprint behind.
You can bet on as few or as many of the stones as you want, and you can choose to have anything from 1 to 20 picks. The cost of your bet will be determined by multiplying your total bet on the stones by the number of picks that you have. For example, if you bet $1 on all 6 stones, your total bet is $6. If you then choose to have 5 picks, the cost would be 5 x $6 = $30.
Drops and Redrops
When all bets and picks have been placed, Gonzo will insert a large golden key into a lock to the left of the wall. This will open a secret row at the very top of the wall, which has two sections. The lower section shows a mixture of stones and gaps. The upper section shows up to seven special symbols, which can be prize values, multipliers, and the occasional re-drop sign. If any of those values or multipliers lands above a gap, it will be able to drop down into the wall, stopping at a random position to enhance the value of the stone that it stops on.
Should a re-drop sign be located above a gap, the secret row will spin again to bring more values, multipliers, and possibly another re-drop sign into play. This will add more to the wall and increase the value of more stones. It is possible for there to be as many as 10 re-drops in a single round of the game, so the wall could have plenty of enhancers on it, given the right circumstances.
The Big Reveal
When all drops and re-drops been completed, the blank stones will rotate to reveal the symbols hidden behind them. If you are lucky enough to have picked a stone that you have bet on, you'll win the value displayed. This will either be the standard payout for the colour of the stone, or it will be a bigger value if it has been enhanced.
Gonzo's Treasure Hunt: Our Verdict
Gonzo's Treasure Hunt is a simply fantastic game that everyone should play at least once. If you're already a fan of
Gonzo's Quest
or Gonzo's Quest Megaways, then you'll love this Live Casino title. And if you've never heard of Gonzo until today, you won't get a better introduction than this one!
Given sufficient prize value and multiplier drops and re-drops, this game can pay very handsomely indeed. A single winning stone can be worth as much as
20,000 times your bet
, and the
maximum you can win in the game is a cool €1,000,000
. If that isn't the kind of treasure worth hunting for, we don't know what is!
Play Gonzo's Treasure Hunt at Videoslots Casino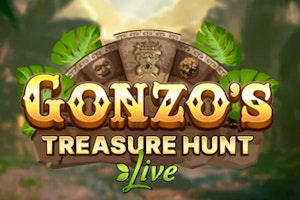 Gonzo's Treasure Hunt Info
| | |
| --- | --- |
| Game Provider | Evolution Gaming |
| Game type | live casino game |
| Paylines | 0 |
| Reels | 0 |
| Min. coin size | 0 |
| Max. coin size | 0 |
| Min. bet | 0 |
| Max. bet | 0 |
| Jackpot | 0 |
| RTP | 0% |
Features
| | |
| --- | --- |
| Bonus game | No |
| Progressive | No |
| Wilds | No |
| Scatter | No |
| Autoplay | No |
| Multiplier | No |
| Freespins | No |