Info about the Swedish game developer and their slots
Quickspin is a Swedish online casino game software developer that combines style and flair to come up the self-proclaimed video slots. With a blend of veteran industry players from both the operator and supplier sides, the company boasts of its ability to shake things up by coming up with market changing products in terms of technology, innovation, and style. They have in fact created some of the most-loved and sought after slots.

The team behind the development of these engaging and visually appealing video slots strives to do everything different from captivating themes to gameplay features. Their long-standing market grip is proved by the sheer number of online casinos entering into partnerships with them. Their games give you more chances to win real money prizes when you sign up at an online casino hosting Quickspin games.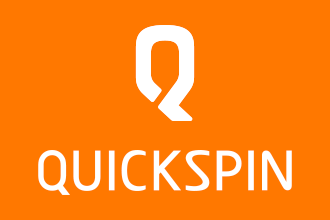 The History of this game developer
The company is owned by the online gaming giant Playtech. Trading on the London Stock Exchange, Quickspin offers value-added solutions to leading online casino operators. Their story goes back to 2012 when the company was launched. However, the story of the company three co-founders goes a little bit further in history when they gathered years of experience in the industry together. Both CCO Mats Westerland and Quickspin's CEO Daniel Lindberg have worked for several years for another game developer.

The company is headquartered in Stockholm Sweden with another office in Malta. All the company's games are licensed by the UK Gambling Control Commission and the Alderney Gambling Commission. This is enough proof that the company's games adhere to the theory of fair play, randomness, and adequate responsibility to gaming addiction. Quickspin has entered into partnership with reputable online casinos implying that you can play their games for free or for real money.


Quickspin top casino games
The company doesn't produce table games, but instead prefers to concentrate on developing online slots. You will therefore not find any Quickspin casino games, but you'll most definitely find some from other casino game developers. In fact, you're more likely to find table games from other developers in a casino using Quickspin software.

It's pretty fine to say at this time that the company is perhaps planning to continue focusing on its core business: online slots as it needs to build up the number it offers to its customers in order to remain at the top of competition. It's also possible that they might be considering to branch out in the near future and begin to create table games, but when this happens, you'll definitely know.


Top slots from the developer
The company offers a total of 27 different online slots, which isn't a huge number. However, they have plans to develop more slots, with titles such as the Wins of Fortune, Wild Bears, and Goldilocks recently released in 2017. A good number of their slots come with an amazing feature attached to them - they offer achievements. This implies that it's possible to track how you're faring, which in turn adds more excitement to the gameplay.

Which slots are best? Well, almost all their slots are pretty good. However, the recently released Sakura Fortune appears to be one of the best. The slot comes with Chinese themes and elegantly chosen graphics, and above all, it offers a really big jackpot. The slot also lets you track your achievements adding yet another thrill in the gameplay. It's possible to check on your achievements on Dragon Shrine as well. Any new releases will probably have this amazing feature.

The King Colossus is a popular slot game ever released by the developer, and it's pretty easy to see why. Its gameplay as well as graphics look intuitive and fantastic. Free spins are the reason why the slot is very popular among players. The free spins feature giant symbols on the three reels at the center, and wild symbols on the first and fifth reels.

You can't fail to mention the infamous Spinions Beach Party when you talk about Quickspin's slots selection. The slot provides its players tones of fun for every spin. Spinions Beach Party is clearly influenced by the popular Minions appearing in Despicable Me as well as their own movie, and features lots of rather strange creatures enjoying their time on the beach. Re-spins as well as free spins can be earned when you play, and you could also find yourself winning a big jackpot.

What if you're looking for a simpler slot to play? Well, the best option would be the Jewel Blast, which is a slot with simple graphics and a simple gameplay. Simplicity doesn't mean that you aren't going to get big prizes on this slot, it's actually possible to win some huge sums of money.


Top mobile slots
Out of the available 27 Quickspin slots, 21 of them are compatible with mobile devices. This is good news for players who want to enjoy playing their favorite online slots while on the go on a smartphone or tablet. Their games have also been optimized for mobile pretty well, meaning that they still retain most of their features and are incredibly easy to play.

Leprechaun Hills is the most popular Quickspin mobile slot. The slot uses tried-and-true theme and offers players tones of fun for every spin. If you manage to activate the free spins at this slot, you might find yourself winning some big cash prizes. The slot comes with over 40 play lines giving you plenty of chances to land on a winning combination as you play.

The Phoenix Sun is yet another mobile slot from the developer. It has something you'll not find in the other slots - a massive 7,776 varying ways to win with the free spins bonus round. The free spins feature of this slot is therefore the best bonus feature around. Other mobile spins are: Gold Lab, Treasure Island, and Crystal Queen.


Quickspin jackpots
Unfortunately, Quickspin doesn't offer progressive jackpot games, but it isn't an accident and they have a considered decision for not offering them. The reason is that the company doesn't believe that progressive jackpot slots offer the best or fair RTP to players since the RTP is often heavily skewed by the big jackpot. This is a developer that thinks about you.

Quickspin is among the exhilarating online casinos and a relatively new addition to the software companies in the gambling industry. Although they only offer a slim selection of games, their slot machines are worth playing. The company focuses on offering its customers feature-rich entertainment and on-point aesthetics. A good number of their slots are undeniably superior and you won't regret playing them.