Street Fighter II from NetEnt
Street Fighter II has a RTP of 96.06% , Cluster Pays paylines on 5 reels and a jackpot of 6000 times the stake!
Street Fighter II is one of NetEnt's heavy hitters. Give it a spin (kick) and you won't be disappointed with this video slot and its knockout features!
Game features and info
Five reels, Cluster Pays mechanism
RTP of 96% but varies with the fighter of your choice
Medium to a high volatility slot game
Features: 2*2 colossal symbols, modifiers, wild gauge, a bonus game and free spins
A minimum bet of $0.10 or 0.2 credits per spin and a maximum of $700 per spin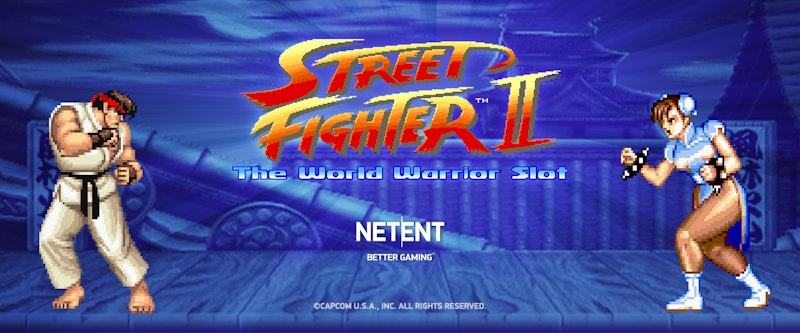 Try the retro Street Fighter II video slot and beat the odds!
Become a World Warrior and win big
Street Fighter II is one of the most iconic, intriguing slot games from NetEnt. The game generated a lot of hype when news about its release broke, and players thrilled by its unique, new and fresh look. The
Street Fighter II slot is based on the Street Fighter version released in 1991
and therefore offers a nostalgic experience to many players who prefer the old school graphics with a new twist. This slot game blends gaming fun and the challenging game experience to offer players the ultimate ride in street fights.
Street Fighter II features and gameplay
Once you get over the nostalgia, you will be required to choose a character to fight an opponent from a total of eight well-developed characters in the game. Once chosen, a player sets off to a random part of the world to begin their challenge against the opponent. Each battle round has two possible outcomes, a win or a loss. When a character is selected, switching to another can only be done after winning or losing the fight.
Player selection could be the ultimate difference between winning and losing. At the centre of the gameplay is a 5x5 grid with 25 symbols that change at every spin. Payouts occur when a player hits four or more matching symbols either vertically or horizontally after a spin. The game contains multiple spins and ends when a player's health runs out.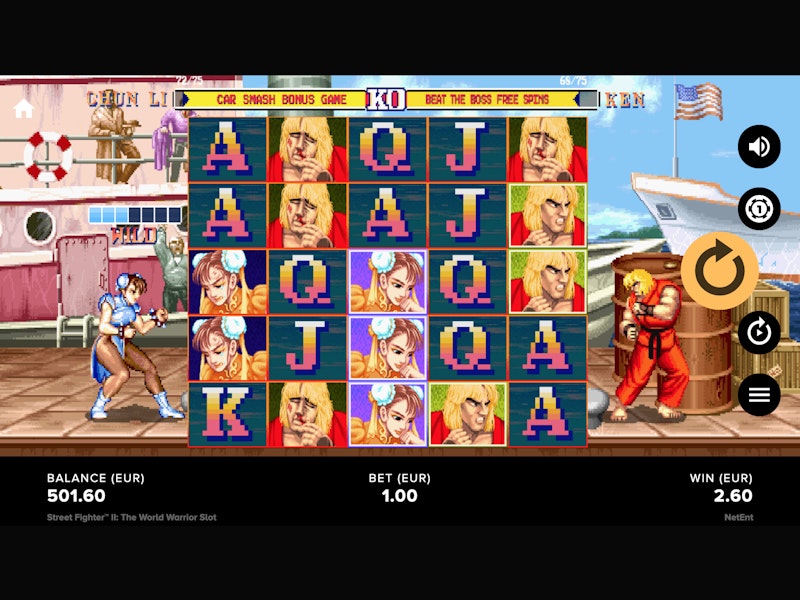 Player selection could be the ultimate difference between winning and losing.
When a combination of high pay symbols land, the fighter deals damage to the opponent and their health reduces until it gets to zero and the games end. Wilds can also be added into the game, with numbers varying with the player selected. Each character in the game has a wild gauge that is filled when a player hits high cluster symbols. Street Fighter II players have the ecstasy of seeing their characters perform their special moves, but only after their meters have been charged to the maximum.
High paying symbols:
Classic characters from the Street Fighter series
Low paying symbols:
The high-value symbols depend on the character chosen as well as the opponent you are facing. You get two victory version of each fighter as well as two defeat versions.
If you win a game, you get to fight off with one of the four bosses in the game; however, if you lose the first duel, you play the smash car level. If you win the car smash level, you get to win between 5 and 15 times your stake and proceed to face off with one of the four bosses in the game.
Street Fighter II game design
Street Fighter II is no doubt an eye-catching slot game with immersive gaming experience. With each spin, when you win the base game, you move on to play with the bosses, and a win against them gives you a multiplier, which increases as you move on. In this game, some players have a high likelihood of winning due to their slightly higher volatility. On the other hand, players with lower volatility are expected to lose more compared to the other players.
Losing to a boss in the bonus round takes you back to the base level
, but you can restart against the boss after invoking a coin gamble feature.
Street Fighter II special features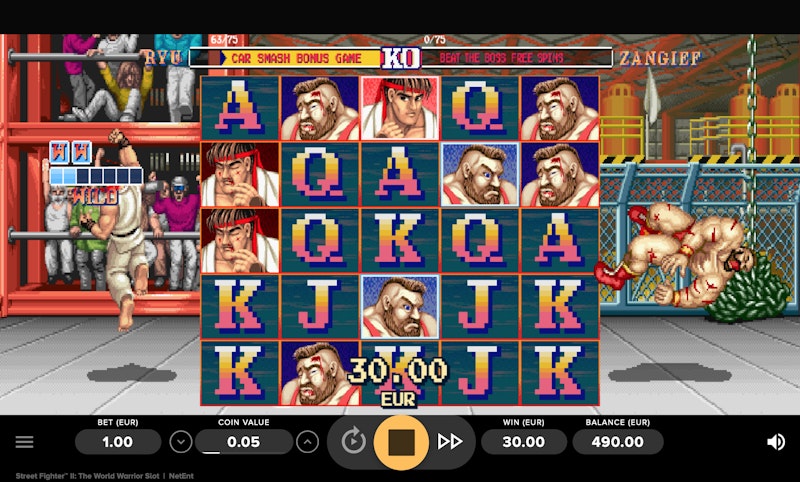 Beat the boss and become the World Warrior.
Beat the Boss Free Spins
In Street Fighter II, winning the base round takes you to fight against the bosses in the bonus round. In the bonus level, there are unlimited spins until you win or lose to the boss. A win against a boss earns you different multipliers depending on the boss you play against. If the base game is lost, all is not lost, and a player can win the car smash level to enter this level of free unlimited spins.
Cluster Pays
Cluster Pays is one of the latest and most innovative ways to win in a game, instead of paylines. In this feature, groups of five or more randomly placed symbols will give you a win. The more the symbols, the higher you win.
Car Smash Bonus Game
Those who played the first game will be familiar with the Car Smash Bonus rounds. In this round, you will get to choose and control the character of your choice to break down a car and win numerous cash prizes.
Bonus features
Each of the eight characters comes with different volatility, RTP and wild feature.
Ryu: RTP of 96.02 (three wild symbols on the same row)
Guile: RTP of 96.04 (two wild symbols on the vertical stack)
Dhalsim: RTP 96.04(three or four wild symbols which are randomly placed)
Honda: RTP 96.05 (three wild symbols on the same reel)
Ken: RTP 96.06 (up to five wild symbols on the same row)
Blanka: RTP of 96.08 (one or five wild symbols on the same reel)
Zangief: RTP of 96.08 (two wild symbols on two horizontal stacks)
Chun li: RTP of 96.08 (two or seven wild symbols which are randomly placed)
You will definitely like the bonuses in Street Fighter II. You can either spin the reel manually or set it to automatic. Other advanced spin settings can also be set to stop the automatic spin after a win or defeat. This makes Street Fighter II an exciting slot game as it does not favour luck but also
takes some skills to win a game
.
Summary
Street Fighter II is one of the most anticipated and most played games that was released by the reputable
NetEnt
in May 2020. The provider managed to produce the sequel while maintaining the original graphics and features from its first release. If you are looking for an unforgettable gaming experience, then Street Fighter II is the game to go for.
An upside of the game is that it is easy to learn. But just like any other game, Street Fighter II is also not without its drawbacks. The game is not very amateur-friendly, and beginners might have a hard time trying to grasp the different rules. New players might also not appreciate the game as they lack the experience gained from playing the first series of Street Fighter game.
Casinos where you can play Street Fighter II