Mega Joker from NetEnt
Mega Joker has a RTP of 99% , 5 paylines on 9 reels and a jackpot of Progressive Jackpot times the stake!
Mega Joker is one of the classic games by Netent, it has one of the highest RTP with 99% and gives amazing retro experience for the players.
Game features and info
Nine reels, five paylines
Highest slot game RTP of 99%
A minimum bet of C$0.10 and a maximum bet of C$2
Progressive Jackpot
High volatility slots
Features: Supermeter

Mega Joker was released in 2013 and has a 99% RTP
Don't Joke with Big Wins in Mega Joker!
Mega Joker Slot is a classic slot game from NetEnt that was released in 2013.
The progressive slot is a nine-reel video slot with the option to play with one or five paylines. The central payline gets active when you bet one coin, but when you bet 10 coins - the maximum - all five paylines become active. Mega Joker might seem complex at first glance, but it's a straightforward game with a retro style that will leave seasoned players nostalgic.
Mega Joker has gained popularity in the Canadian market over the years, thanks to one of the highest RTP in the industry, at 99%. Moreover, this classic slot has a progressive jackpot and a bonus feature called Supermeter Mode that will give you immersive gameplay.
How to Play Mega Joker Slot
Mega Joker provides a demo mode
of the game to give you the chance to get acquainted before playing with real money. The slot has a 3x3 design, with most symbols on the reels being fruits. Mega Joker keeps it simple with only a few buttons on the site:
Spin: The main button, which also acts as the stopper, if you hit it right after the reels begin to rotate.
Max Bet: This button takes you directly to the game with the maximum possible amount of coins.
Bet: The button essentially carries out the same task as max bet only that it allows you to choose the number of coins you wish to bet.
Collect: This is an additional button that allows you to choose to play in the Supermeter mode or transfer your winning directly to your balance after landing a win.
High pay-out symbols:
Golden treasure chest
Bells
Watermelons
Lemons
Cherries
The payouts vary depending on the bet coin size. More symbols are added to the reels while playing Supermeter mode that comes with their own set of payouts. These symbols include:
Low pay-out symbols:
These low payout symbols increase in value, respectively. The joker is another symbol in Mega Joker that offers a mystery payout of $10-200 while betting one coin and $20-400 while betting 10 coins.
Mega Joker gameplay
The main game involves choosing
three varying coin values, 10 cents, 20 cents or $1 and a bet size that ranges between 1 to 10 coins.
A bet of 1 coin triggers only a single line, and all wins are automatically cased out. All winning lines are activated when you pick a bet size of 10 coins. A win from the 5 paylines can be cashed out, or you can opt to play the Supermeter game.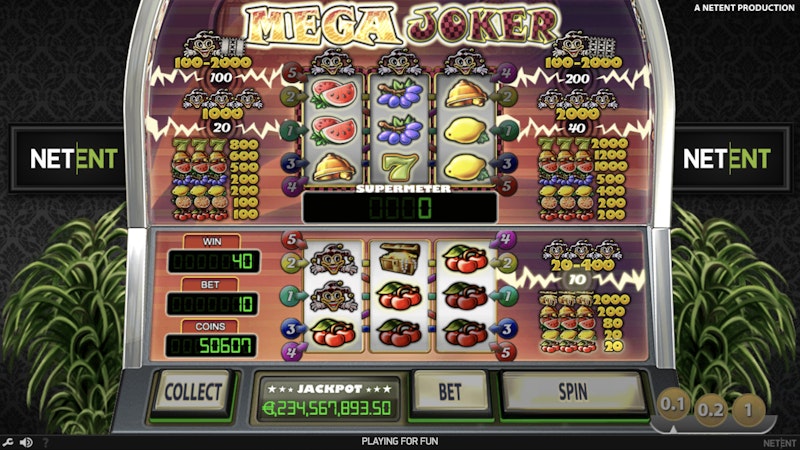 Mega Joker features the Supermeter and it can boost your winnings with a $100-$2000 mystery payout
Special game features in Mega Joker
Supermeter mode
The Supermeter feature occurs in the upper reels and gets activated each time you land a winning combination in the lower reels.
The feature only activates when playing with a maximum bet
and your spin winnings amount to less than 2000 coins. The Supermeter bonus features allow players to use their maximum win as a bet.
If you land three jokers in the Supermeter mode, you are offered $2000 for 40 coins and $1000 for a 20 coin bet. 100 coins offer a mystery payout of $100-2000 for every joker that lands on the middle reel.
Each joker that lands anywhere on the reels have a mystery payout of $100-2000.
You are required to transfer your winning directly into your balance if you wish to opt-out of the Supermeter mode.
Compelling Progressive Jackpot in Mega Joker
The jackpot prize starts at $2000 up to $50000
, surpassing maximum winnings from the base game and the Supermeter. The jackpot is drawn at random, but first, you're required to play on the base game (lower reels) to qualify. You must also play with the maximum coin value.
An estimated $30,000 jackpot is won every week.
It's a local jackpot, which implies that the size of the jackpot may vary depending on the casino you are playing at. Players contribute 2-3% of every bet to the jackpot; thus, the more the players, the higher the jackpot.
Mega Joker Slot Quality Graphics and Animations
NetEnt made a ballsy move by authenticating retro animations and low-quality graphics in Mega Joker.
This slot game adapts an old-fashion theme with minimal animations and effects.
Nonetheless, the slot doesn't come short of colour and lights with changes in the illumination of the play areas, symbols and winning combinations.
The look in the base game changes when you switch to Supermeter mode and also when you change coins for the wager. Mega Joker is not an extravagant game, but neither does it lack its elegance.
The audio on Mega Joker takes a retro approach to soft, short and low-frequency sounds while spinning the reels or clicking buttons on the game. The slot is everything vintage, with the winning theme only having stronger monophonic sounds and effects that offer a beautiful vibrant atmosphere full of nostalgia.
Mega Joker Summary
Mega Joker is a classic slot game suitable for players who enjoy retro style fruit machines that will give them an old-school playing experience full of nostalgia. The slot has a selection of features that set it apart from other classic slots. There is a Supermeter mode that will win you bigger payouts, and random wins after hitting certain joker combinations.
One setback of Mega Joker's progressive slot is the lack of free spins, and also note that the winning potential is lower than in other games like Jackpot 6000 Touch, which is very similar to Mega Joker. Jackpot 6000 can be an alternative for more ambitious players but take nothing away from Mega Joker, which will not disappoint players looking for a classic experience.
Mega Joker boasts one of the world's
best-paying slots
with a Return to Player Rate (RTP) of 99% when using the maximum bet. Mega Joker is the slot for a typical classic Canadian player looking for simplicity and thrill as one package.
Actually, yes! everyone should take a spin!
Casinos where you can play Mega Joker