Jackpot 6000 from NetEnt
Jackpot 6000 has a RTP of 98.9% , 5 paylines on 3 reels and a jackpot of 6000 times the stake!
Game Features
Three reels, three rows, and five paylines
High RTP of 98.9%
High volatility slot
The minimum bet is 0.1, and the maximum is 1
Features: Bonus game, wild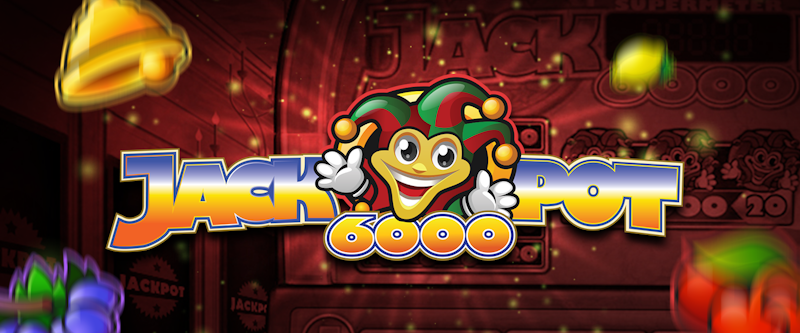 Try the classic Jackpot 6000 video slot from NetEnt
Enjoy traditional Vegas-style gaming in Jackpot 6000
It's NetEnt who once again made sure slot lovers never run out of fun with Jackpot 6000, a 2014 slot machine that takes you right to the heart of Las Vegas with its 3D graphics and design. Jackpot 6000 is a three reels video slot that provides five winning ways. The vintage fruit machine is quite a simple slot with just a few features. You can enjoy the free play version of the game if you don't wish to spend real money. As the name suggests,
Jackpot 6000 has a jackpot worth up to C$6000 and a high volatility slot with an RTP of 98.9%.
How to play Jackpot 6000
Jackpot 6000 takes you back to the classic terminals and casino machines with three reels and five paylines. The reels only have six symbols in total, which include:
Joker: three of a kind earn you 6,000x your stake.
Star: three of this symbol rewards you with 100x your stake
Bell: three of a kind awards you 80x your stake
Grapes: three grapes symbols offer 60x your stake
Lemon: three of a kind earn you 20x your stake
Cherries: three cherries grant you 20x your stake
The slot lacks a wild or scatters symbol, which clearly shows that Jackpot 6000 is a straight-forward slot. You can only land three matching symbols on a payline to make a win. However, the joker makes an exception during the Supermeter mode, where landing two of them earns you a mystery win that ranges from 10 to 6,000 coins.
Jackpot 6000 lacks a progressive jackpot, but as the name suggests, you could take away the 6000 coin jackpot when playing with the maximum stake of 2.00. You'll only require three jokers on one winning line in the base game and Supermeter mode to cash in the jackpot.
Jackpot 6000 special features
Whenever you strike a win on the Jackpot 6000 slot, you jump into the second set of reels where you're given the option to play the money back in or cash it in. if you wish to stake the wins, then you'll have to pick one of two bonus options, i.e.:
Supermeter mode
This is an optional bonus feature that allows you to instantly collect your wins after they happen and is triggered after each winning spin. Activate this feature by clicking on "spin" after every winning combo, and your winnings will be transferred to the Supermeter display situated at the top of the game.
Every combination of two jokers rewards you with a
mystery win of between 10 and 6000 coins
in this feature. Be aware of a subtle change in the background every time you land a win in the Supermeter mode. You can notice your winnings flashing on top of the reels.
Double or nothing
This is a heads or tails feature that doubles-up your winnings. You're required to pick heads or tails in this feature, and if you happen to guess right, your win gets doubled. If your guess is wrong, you lose your wins, and the game continues. After a successful guess and your winnings getting doubled, you can also opt to try your luck again and transfer your money to the Supermeter to raise your chances for an even bigger win.
Jackpot 6000 graphics and sound
Jackpot 6000 is a classic Vegas-Style themed slot with some of its greatest charms from jokers and fruits. The authenticity can be noticed around the play area. You can see the vintage visual appearance of the slot machine and the blue background with more slots. A huge palm tree and the numerous pictures on the wall give Canadian players the feeling of a real land-based casino. The slot game features traditional symbols like fruits and bells on the reels, which upholds the slot's authenticity as an old-school slot.
Being an all-around classic slot, Jackpot 6000 has minimal sounds that can be heard when you strike a win and successfully use heads or tails to boost your win up to 3000 coins. You'll also hear some cheers from the 'Can-Can' dance every time you land a win. Nonetheless, the clicking of buttons and the spinning of reels or wins produce authentic sounds, reminiscent of a dated slot machine in a land-based casino.
Jackpot 6000 bet limits
You'll find six bet levels and four coin values as betting options on Jackpot 6,000. The betting range on the Jackpot 6,000 slot is set at a coin value of 1 up to 5, making it a good option for low-risk players. The minimum bet is set at 0.1 up to 1. The bet level you choose determines the type of wins you make, and the levels include 1, 2, 4, 6, 8, and 10. The coin values in Jackpot 6000 include: 0.10, 0.20, 0.50, and 1.00.
Verdict
NetEnt's Jackpot 6000 is a slot for Canadian gamers looking for an authentic traditional slot. The game is a slot for every player from low-risk to high-rollers, with betting options that range from 1 up to 1. Jackpot 6000 is a high variance
slot game with an RTP that ranges from 98.9% on the base game and 99% in the Supermeter mode
.
Moreover,
NetEnt
provides you with the option to enjoy the game on the go. The
slot is mobile compatible
, and you can play it on your iOS and Android devices thanks to the HTML5 technology. You can take a break from your favourite chair and your desktop and still have a chance on the 6000 coin jackpot available on the slot. Mobile gamers are treated to an even more detailed slot compared to the original version of the game. The gameplay is the same, but the symbols are more precise, and the reels take about the entire screen.
However you choose to play Jackpot 6000, you will surely have a fantastic gaming experience on the slot!
Casinos where you can play Jackpot 6000