Ghostbusters from IGT
Ghostbusters has a RTP of 94.5% , 30 paylines on 5 reels and a jackpot of 2500 times the stake!
If there's something strange in your neighbourhood, who you gonna call? GHOSTBUSTERS! It's time to break out your proton pack because Slimer is waiting for you in the Ghostbusters video slot. This slot is a real trip down to memory lane and is also packed with features we love. So let's go and spin the reel! I ain't afraid of no ghost...
Game Features
Five reels, three rows, and 30 paylines
High RTP of 94.5%
The minimum bet is 0.01, and the maximum bet is 50
Features: Multipliers, Wilds, Free spins, Bonus game, Scatters
Who Will you Call When the Ghosts Come in Ghostbusters Slot
Ghostbusters slot has almost matched the popularity of the
iconic Ghostbusters film released back in 1984
. The film was a major hit back then and continues to impact this modern age generation. Let us talk a little about the blockbuster movie to understand why Nevada-based game developer IGT decided to invest time and money to bring this film to life in one of their video slots.
Ghostbusters film made a gross income of $23 million on the first weekend of its release, a figure that made it a box office record at the time. The movie continued to top the charts for five weeks, generating a revenue of $100 million.
IGT
was successful in incorporating the popular aspects of the film into the Ghostbusters slot.
The game features five reels and 30 paylines.
You can enjoy your time with the funny Slimer, which earns you four mystery features.
How to play Ghostbusters
If you have played an online slot game before, then you'll be quickly comfortable with Ghostbusters.
The slot is a five-reel, three-row slot machine that features 30 ways to win.
IGT did a fantastic job on the graphics and animations, which incorporate the Ghostbusters movie. You can notice popular actors and different Ghostbusters equipment depict the symbols. Meet the film stars, Dan Akroyd as Ray, Harold Ramis as Egon, and Emie Hudson as Winston and Bill Murray as Peter. The slot further includes Slimer, the Stay Puft and Marshmallow Man.
High-value symbols
The highest paying symbol on Ghostbusters slot outside of the bonus features is the Slimer and the library ghost, which acts as the wilds. If you match five of a kind, you'll earn 500 times your stake.
Ray and Egon are other high-value symbols that offer 250 times your bet for five of a kind. Match five of Peter or Winston symbols to earn 200 times your bet. The last main character on the reels is Louis, played by Rick Moranis. A combination of five Louis symbols offers 150 times your initial stake.
Low-value symbols:
P.K.E meter
A proton pack
A ghost trap
A pair of ecto goggles
Extra features
One of the Ghostbusters slot's best features is the 30 paylines, which provide frequent wins. The slot offers bonus games and a few unique features, ensuring a fun and rewarding time on the slot.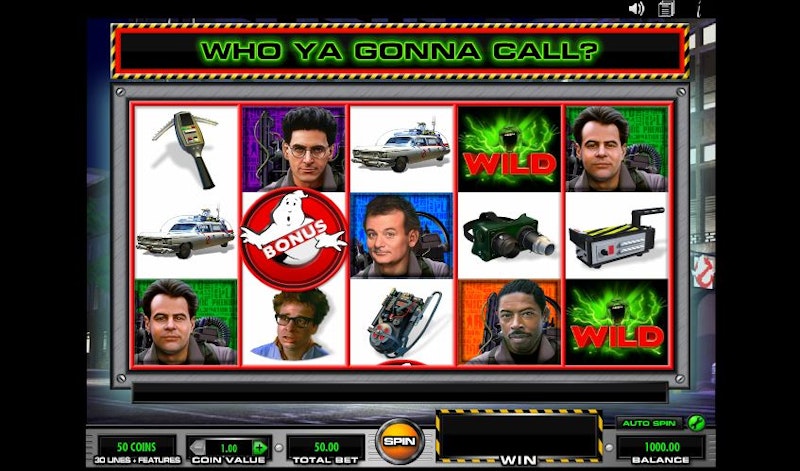 Ghostbusters is stacked with unique features and multipliers
4 Mystery Feature This feature can be unlocked automatically on the regular game. The Slimer becomes the main character and leads to huge payouts. Slimer is notoriously hilarious as he farts while you receive your wins. The payouts could range from 50 to 50,000 times your stake. There's also a Multiplier feature that offers either a two or five times multiplier. However, if you're looking for significant payouts, Extra Wilds and Wild Reels features are what you should be hunting down.
The Extra Wilds feature happens on one to four symbols, which are replaced with wild symbols. In the Wild Reels features, one to three reels are 'slimed' and turned into wild reels, which offer high potential for huge payouts.
Ballroom Busters Bonus Feature
This feature is triggered by landing two bonus symbols on reels two and three with the Slimer symbol on reel four. The feature earns you five proton shots to shoot at the six hiding ghosts. Every successful hit offers you a cash prize, which can include a two or five times multiplier. The feature ends after you run out of the five shots.
Stay Puft
This could be the best feature on Ghostbusters, triggered by landing two bonus symbols on reels two and three with the Stay Puft bonus symbol on reel four. This feature earns you eight free spins while the number of paylines increases to 40.
The Psychic
This feature requires you to pick a card matching Dr. Venkman's, which is the same card he's holding on the screen.
Paranormal Pick
To have a shot at a progressive jackpot win, you'll have to follow Slimer and choose vile green clouds that offer several paranormal jackpots regardless of the cloud you've chosen. If you get three Ghostbusters icons on the center reel, you earn a chance at the bonus game and the progressive jackpot.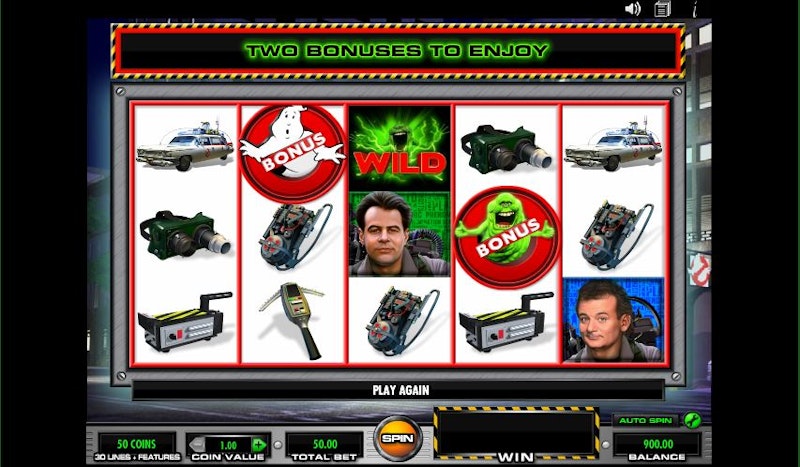 Ghostbusters has two bonus features you can trigger
Ghostbusters graphics and sounds
Ghostbusters slot theme is well-thought-through by IGT, who has brought back to life the
iconic blockbuster film in 1984
. The graphics are unique and popular characters on the film will emerge on the reels providing Ghostbusters' fans with a great treat. You'll witness Selmer's hilarious frolics and the librarian's scary screams as you get treated to a movie experience while bagging some superb wins.
Every time you press the spin button, the more than familiar soundtrack:
"Who you gonna call?"
comes up. You'll also hear some popular catchphrases from all the characters to bring the slot to life.
The video and sound systems on this slot machine are top-notch, and you can enjoy Ray Parker's famous theme song while playing.
Ghostbusters bet limits
Ghostbusters slot allows a maximum of up to 50 coins to be played, and the lowest bet per spin is 0.01. The average payout percentage of Ghostbusters game is 94.5%, and it offers a total jackpot payout of 2500.
Verdict
Ghostbusters slot is a must-try for classic movie fans, whether playing on a desktop or mobile device. The slot incorporates all aspects of the blockbuster film, such as the characters and their antics, just as in the movie. You'll even see some original movie clips pop up on your screen after a winning combination. The IGT product receives our recommendation, from the superb graphics to quality soundtracks and the variety of bonus features, including multipliers and bonus games.

If you're a fan of hit movies and TV shows, Ghostbusters is the slot for you. This game has immortalized the blockbuster film, which is still a hit to the younger generation.
Casinos where you can play Ghostbusters