Can You Find the Book of Darkness?
Published:
wed 21 oct 2020 Life can often be a pretty crazy ride, and that's always been the case. Today we blame all kinds of things for the chaos around us, but back in the old days we took a much simpler view of the world and recognized just two forces - the force of good and the force of evil. These two forces were entangled in an epic struggle, and our job as human beings was to go to any lengths to make sure that the force of good would prevail.
Introducing the Book of Darkness
Book of Darkness is a new slot
from
Betsoft
that takes us back to those good old days. On the side of good is a character called the Huntress, and on the side of evil in the Dark Wizard. Both of these larger-than-life characters are keen to get their hands on the infamous Book of Darkness. This is a mysterious and arcane volume of powerful magic that allows its owner to achieve something called Shadowform. That Shadowform power will obviously be a big help to the Hunter or the Dark Wizard, whichever character gets to it first, and it could also help you to win a handy pile of cash, which is even better.
The End is Nigh
When you launch this five-reel slot, you will quickly realize that the long quest that the Huntress and the Dark Wizard have been on isn't far from reaching its conclusion. The Book of Darkness is almost within their reach, and the two adversaries seem to have a fifty-fifty chance of success, which is why this game takes place in a mysterious chamber as they prepare for a final battle for supremacy.
Symbols on the reels include a variety of magical tools, including a dagger, a potion, a ring and a crystal, as well as the Huntress, the Dark Wizard and the Book of Darkness itself. All of these symbols, as well as the game environment overall, have a gorgeous visual style that will please anyone who happens to be a fan of WoW or DnD. An orchestral soundtrack and epic sound effects help to provide an immersive auditory background for the adventure.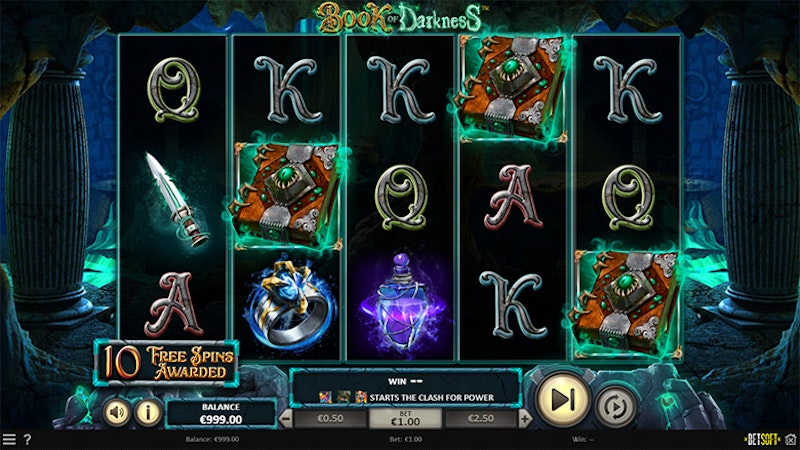 You can trigger the bonus rounds and play for the jackpot
Book of Darkness Free Spins
The Book of Darkness symbol serves as both a wild and a scatter. Get three, four or five of them on the reels and you will
win an instant cash prize as well as 10, 15 or 20 free spins
, respectively. Before the first spin takes place, one symbol will be randomly selected, and each instance of that symbol will expand to fill its reel whenever it appears on three or more reels.
The Clash for Power
Get the Huntress, the Book of Darkness and the Dark Wizard symbols (or the same symbols in reverse order) in a straight horizontal line and they will face off in a Clash for Power. Choose to side with the Huntress or the Dark Wizard and they will battle on your behalf over a free spins round, filling up a Hero Meter (and winning you cash prizes) as they do so. The character who fills their Hero Meter first will win the battle.
Shadowform Feature
Should your chosen hero win the Clash for Power, the ultimate power of the Book of Darkness will be unleashed and you will enjoy an additional Shadowform feature. This will give you another
10 free spins
, plus either a 5x multiplier or five expanding symbols, depending on whether you sided with the Huntress or the Dark Wizard.
A Stunning Addition
'Betsoft Gaming is one of the most innovative gaming content providers,' said Kai Botha, who is Marketing Manager at the company. 'We look to challenge our players on many levels as well as to provide huge pay-out potential. Book of Darkness is a stunning addition to our award-winning portfolio. Player feedback is incredibly positive already and we expect Book of Darkness to make a big impact.'
Open the Book of Darkness Today
The Book of Darkness is a really enjoyable game with plenty of depth. As well as playing to trigger the Free Spins round, you'll also be watching the Clash for Power with bated breath as you wait to see if your chosen hero can unleash the Shadowform power.
It's more excitement than you'll find in many slots
, so if you have a taste for adventure - and you like plenty of magic on the side - play Book of Darkness at LeoVegas Casino today.
Licensed & Verified
19+ | T&Cs apply | Play Responsible | This offer is not available for players residing in Ontario