Thunderkick Background and History
Like many other of the most creative providers around, Thunderkick wasn't dreamed up in a sterile boardroom by a corporate think tank. Quite the opposite, in fact. This company was
formed by a small group of game developers in Sweden
who 'decided to do their own thing in an industry ruled by giants.' The founders wanted to follow their creative urges wherever they may lead and have fun in the process. If other people ended up liking their games enough to play them, so much, the better.
That was back in 2012, and while the Stockholm-based company has definitely grown in stature over the years, it is still a fairly small studio, with just over fifty employees. This has helped Thunderkick retain its fun and friendly attitude and stick to its original mission of following their own path rather than conforming to the corporate players' expectations and norms.
The good news for Thunderkick is that its games have not just allowed the development team members to express themselves, but they have also gained a huge following in the gaming community. That has led many of the
world's biggest online casinos to offer Thunderkick titles
, including the likes of 888,
Casumo
and LeoVegas.
Thunderkick Online Slot Games
As we said earlier, Thunderkick doesn't tend to release quite as many games as some other providers, but that is expected from a relatively
small studio where the focus is always on quality rather than quantity
. Suffice to say that the games which have been released are all of the
highest standards, and every title delivers something new and fresh
.
Take, for example, the mind-bending
Pink Elephants
slot, which took the familiar and almost predictable 'African savannah' theme and combined it with the titular pink elephants that are normally associated with self-induced hallucinations. The gaming world was taken aback by the premise, and the slot proved so successful that a keenly awaited follow-up,
Pink Elephants 2
, was released in 2020.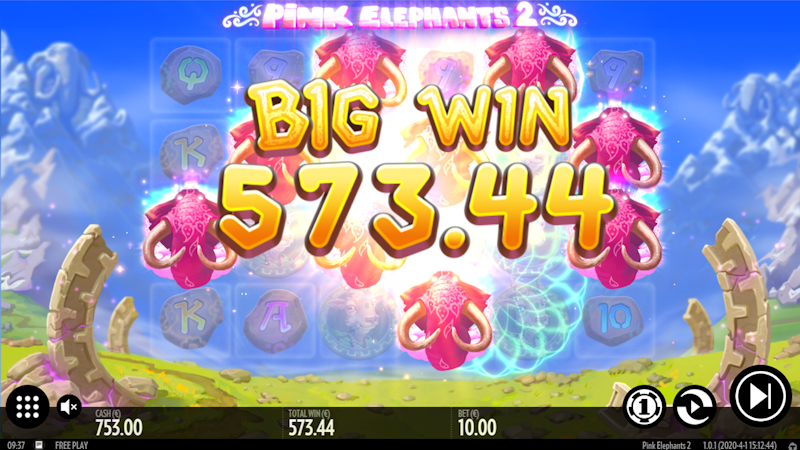 Thunderkick released Pink Elephants 2 in 2020
Other Thunderkick slots that you have most probably heard of, if not already played, include
Midas Golden Touch, Esqueleto Explosivo, Well of Wonders, Sword of Khans, Divine Lotus
and
Carnival Queen
.
In February 2020, Thunderkick launched the first in a
five-game Beat the Beast series of slots
, each of which features a different legendary monster. The first title took players into the
Kraken's Lair
, and others featured the
Mighty Sphinx, Cerberus and Quetzalcoatl
. Beat the Beast: Griffin's Gold is expected to be the last slot in this series, but the company could obviously choose to expand it further at some point if it sees fit to do so.
Whatever Thunderkick game you happen to play, you can expect the execution to be just as impressive as the concept behind it. This company doesn't just think outside the box to come up with a 'pink elephant' idea and then leave it to sell itself. Instead, it goes to town to bring that idea to life and giving players
state-of-the-art visuals, immersive audio and smooth gameplay
.
Thunderkick Table Games
At the time of writing, Thunderkick hasn't released any table games but has instead focused purely on slots. This probably isn't very surprising given its commitment to fun, innovation and going against industry norms. It might eventually decide to create a title that rocks the table game genre in the same way that Pink Elephants shook the slots genre. Until then, Thunderkick is all about slots.
Thunderkick Mobile Games
Thunderkick is a thoroughly modern online game developer, and so all of its games are designed from the start with one eye on the
mobile experience
. This means that you can play all Thunderkick games on any compatible tablet or smartphone, and your experience of them will be much the same regardless of what platform you use. Of course, the mobile versions of Thunderkick titles tend to have a tighter visual focus on the reels due to the smaller screen size of mobile devices, but the same can be said of the games released by the majority of providers.
What We Like About Thunderkick
One of the most impressive things about Thunderkick is not that it was formed out of a desire to do something different, but that it
continues to go its own way even after becoming a huge success
. The company recognizes that its commitment to fun and innovation was the thing that set it apart from the industry giants in the first place, so it wisely maintains that commitment as it expands its own distinct corner of the gaming world.
Equally important is the attitude that Thunderkick has towards people. It is easy for any thriving company to get so wrapped up in its product that it ends up neglecting its staff and end-users. Still, Thunderkick keeps its feet firmly on the ground in this respect and
cares just as much about its staff and customers
as it does about the next big innovation. We appreciate that, especially in an industry that is as competitive as iGaming.
Where to Find Thunderkick Games Online
Thunderkick games can be played worldwide at a wide range of venues, but the first ports of call for those of us in Canada would be LeoVegas Casino, Casumo Casino and 888 Casino. If you'd like to explore Thunderkick games at other venues, simply visit our Compare Casinos page and select the Thunderkick option to see the full list of recommended venues.
You can play Thunderkick video slots at multiple big casinos, try them at Casumo, Leo Vegas or 888!
Most popular Thunderkick casino games in Canada:
Midas Golden Touch
Gods of Rock
Esqueleto Explosivo 2
Baron Bloodmore and the Crimson Castle
Pink Elephants 2
Sword of Khans
Beat the Beast Mighty Sphinx
Cosmic Voyager
The Falcon Huntress
Beat the Beast Griffin's Gold/li>
Jin Chan's Pond of Riches