Nolimit City background and history
Nolimit City was founded in Sweden in 2013 by a small team of industry professionals who decided that they wanted to do their own thing. Whilst the Nolimit name might sound as if it was inspired by poker, this company focuses primarily on slot games.
In 2015, after spending a couple of years building its platform, Nolimit City released its first game - a five-reel video slot called
Creepy Carnival
. That title proved successful, and more games followed, with
Space Arcade, Oktoberfest, Sushi Mania
and
BBQ Frenzy
all being big releases for the company.
When
Space Arcade
was selected as a featured game in a television commercial for Mobilebet in Sweden and Norway in 2017, the company knew that it was getting to where it wanted to go. Nolimit City has continued to grow ever since, and today its games can be found at scores of online casinos around the world.
Nolimit City is still a fairly small company in terms of the number of people it employs, but it has still managed to make quite a splash in the industry. The company is still based in Sweden, but it now has additional offices in Malta and India, and the expansion looks set to continue.
Nolimit City online slot games
We have already mentioned a few games by name, but to really appreciate what sets this developer apart from the rest, you need to actually play them. The first Nolimit City title,
Creepy Carnival
, was a hit from the outset, and nobody could have guessed that it was a debut slot. With sticky wilds, re-spins, multipliers and a Star Spin feature, this carnival-themed game was as engaging as they get.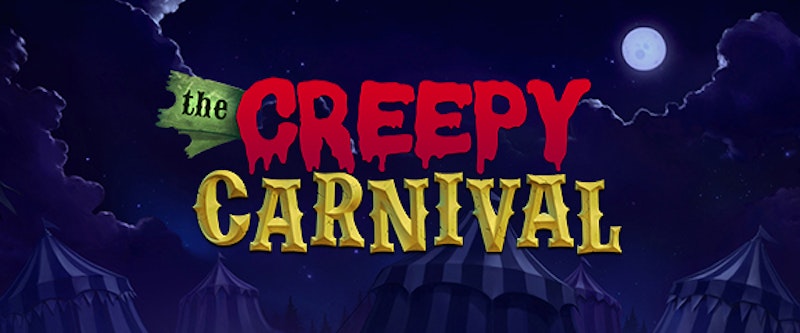 Nolimit City's first game, The Creepy Carnival, was an instant hit!
Take a look at
Space Arcade
, which was released roughly a year later, and the quality was still very much there, but the slot was utterly different. This three-reel slot had large symbols designed to look as if they'd been plucked straight out of a 1980's video game, such as Space Invaders or Tetris. Throw in some beautifully appropriate sound effects, as well as an innovative Winged Wild feature, and it isn't hard to see why Space Arcade also turned out to be a big hit.
And there, in a nutshell, are the keys to Nolimit City's success - variety and innovation. Each game that the company releases plays like something completely new and different, and that's because each title really is completely new and different. There is no assembly-line approach to the way in which games are created, so each one delivers a unique and refreshingly original experience.
One thing that all Nolimit City games do have in common is their quality. The company isn't the most prolific, so you shouldn't expect to see a new game every week or even a new game every month. You can expect for every title to be of the highest possible standard in terms of visuals, audio, features and gameplay.
The best way to appreciate all of this is, as we said earlier, to actually play the games themselves. By all means, start with the earliest releases if you'd like to see the foundations on which the reputation of this company was built. Then explore more recent releases so that you can see how Nolimit's commitment to originality remains just as strong today.
Those of you who would like some specific recommendations might want to start by taking a look at
Book of Shadows
. This is a great slot game that allows you to change the reel format for every spin, so you can play with as few as three rows or as many as five, according to your preference.
Milky Way
is a space-themed game that introduced the Nolimit Bonus feature to players. This allows you to buy the special feature (in this case, Milky Way Spins) at any point in the game, rather than simply hoping to get lucky and trigger it by getting three scatters.
Warrior Graveyard
is an intensely atmospheric 2020 release that focuses on something called the xNudge feature. This will automatically nudge a stacked wild symbol to fill the reel whenever it appears on the second, third, fourth or fifth reels. This slot also allows you to buy Graveyard Spins or Death Spins features via the Nolimit Bonus mentioned a few moments ago.
There are plenty of other games from Nolimit City that you can play, but we'll leave you to discover and explore those for yourself.
Nolimit City table games
There are no table games available from Nolimit City at the time of writing, and to be perfectly honest, we don't imagine that this will change much in the future. The company has focused on slots from the very beginning, and to great effect. To take a detour into table games at this stage would require them to slow things down on the slots development side, and since that is their primary business, they wouldn't do it without a very good reason.
Nolimit City mobile games
One of the great things about Nolimit City games is that they all play beautifully on
mobile devices
, and that's because they're designed with mobile in mind from the outset. Take a look at any press release put out by the company over the last few years, and you'll always see the featured slot showcased on both desktop and laptop screens. In short, mobile players get everything that their big-screen counterparts do, not to mention the freedom to enjoy their gaming anywhere.
What we like about Nolimit City
As is often the case with companies that were founded by a small group of genuine gaming fans, Nolimit City has remained true to its original vision. It is just as committed to originality, innovation and satisfying gameplay as it ever was, and we are pretty sure that things will stay that way.
Where to Find Nolimit City Games Online
Nolimit City games can be found at scores of casinos around the world. Players in Canada can find plenty of them at
Videoslots Casino
,
Mr Green Casino
and
Leovegas
, to name just three.
Most popular NoLimit City slots in Canada
San Quentin
Deadwood
East Coast vs West Coast
Fire in the Hole
Punk Rocker
Tombstone
Warrior Graveyard
Dragon Tribe
Tomb of Akhenaten
Book of Shadows